What Our Clients Have To Say
As real estate professionals, it's our job to make the real estate buying and selling process as easy as possible for everyone involved. That means providing quality information and service that will benefit you immediately. As your Colorado Real Estate Home Buying/Selling Specialist, you have our pledge to always listen to your needs and help manage your real estate transaction to your complete satisfaction. Please contact us if we may be of any further assistance!
_____________________________________________________
★★★★★ Highly likely to recommend (Zillow)
08/03/2019 - loricwarren
Sold a Single Family home in 2019 in Parker, CO.
Local knowledge:

★★★★★

Process expertise:

★★★★★

Responsiveness:

★★★★★

Negotiation skills:

★★★★★
Kim and Bill Keenan go so far above what they are required to do! We moved overseas and left our home in their hands to sell. Not only did they prepare the home for every showing (turning on lights and music), etc., they set up an internet account for us so music could play during showings, they changed light bulbs that had expired, they contacted repairmen when needed, met the movers and repairmen at our home for appointments, and much much more. We will never be able to thank Kim and Bill enough for relieving much of our stress while being across the world and trying to sell our home. If you are in the market for selling or buying, please use Keenan Real Estate - they are, by far, the best realtors we have ever used in our many many moves across the country.
______________________________________________
★★★★★ Highly likely to recommend (Zillow)
01/24/2019 - Mark Grant
Sold a home in 2018 in Franktown, CO 80116.
Process expertise:

★★★★★

Responsiveness:

★★★★★

Negotiation skills:

★★★★★
Kim and her team at Keenan Real Estate are the best. Our home was a bit of a tough sell, requiring all of Kim's expertise, creativity, and dedication. She stayed with us and because of her great efforts our home was sold. We recommend Kim and Keenan Real Estate to everyone. Thanks Kim!
______________________________________________
★★★★★ Highly likely to recommend (Zillow)
01/17/2019 - skullian2
Bought and sold a Single Family home in 2018 in Beacon Pointe, Aurora, CO.
Process expertise:

★★★★★

Responsiveness:

★★★★★

Negotiation skills:

★★★★★
I am not sure I can find enough positive adjectives to describe Keenan Real Estate. They went above and beyond as they sold our home and were able to get us the best price possible. They helped us prepare our home for sale by recommending handymen and contractors. They negotiated with potential buyers and saved us a ton of money. We would not have been able to afford our new home without them. They were equally brilliant helping us with our new home as they were with us every step of the way with the builder. From the first day to our signing they were at every meeting. Who does that? Keenan Real Estate. I have never experienced this level of detail and attention from anyone before. I will always use them and highly recommend them.
______________________________________________
★★★★★ Highly likely to recommend (Zillow)
09/03/2018 - jerbil018
Sold a home in 2018 in Stonegate, Parker, CO 80134.
Review for Member: Bill Keenan
Local knowledge:

★★★★★

Process expertise:

★★★★★

Responsiveness:

★★★★★

Negotiation skills:

★★★★★
Kimberly is OUTSTANDING. I interviewed several agents and Kimberly's presentation and knowledge of the area I lived, made the choice easy. Kim and her team made the house selling process very easy. She worked with my agent in Arizona to coordinate the sale of my Colorado house with the purchase of my Arizona house so the move would be as smooth as possible. When she said my house would sell fast I was amazed when it sold within a day for over the listed price. Kimberly always took the time to answer any questions. Kimberly is very good at her job and I would highly recommend her to anyone in the market for selling or purchasing a home.
______________________________________________
★★★★★ Highly likely to recommend (Zillow)
07/21/2018 - softcel99
Listed, but didn't sell my Single Family home in 2018 in Highlands Ranch, CO.
Local knowledge:

★★★★★

Process expertise:

★★★★★

Responsiveness:

★★★★★

Negotiation skills:

★★★★★
I can not say enough positive things about Kimberly and Bill Keenan as Realtors. Being an out of state seller is a tricky thing and they handled the nuances to perfection. They went above and beyond at every turn by taking the house under their wing as if it were their own. The house needed some updating and maintenance and the Keenan team offered me their contacts at discounted pricing to get the jobs done and they helped managed the projects as well. They also worked with the HOA to get the approvals. Above and Beyond. While my house did not sell, this time, it was due to my pushing back on the initial pricing the Keenan team suggested. I cannot say enough about them, and would use them in the future for all of my buys and sells in the Denver Metro Area.
______________________________________________
★★★★★ Highly likely to recommend (Zillow)
7/05/2018 - christine sanchez7
Bought and sold a Townhouse home in 2018 in Hampden South, Denver, CO.
Local knowledge:

★★★★★

Process expertise:

★★★★★

Responsiveness:

★★★★★

Negotiation skills:

★★★★★
My husband and I had been considering selling our home for the last couple of years and finally decided to go for it since the market in Denver is so hot right now. We were referred to Keenan Real Estate by friends who had used Keenan Real Estate for several transactions in the past. We could not be more happy with our decision to use the Keenans for selling our home and buying another home. Kim was very responsive to our initial inquiry and took the time to call me that night to set up an in person meeting. Upon meeting the Keenans in person, we knew they were the right team for us. We immediately felt comfortable with them. They took the time to explain the process and calm our fears of selling and buying in such a competitive market. Kim worked tirelessly to successfully market our existing home and got us the best deal possible. On the buying side, Bill was extremely patient, flexible and attentive to our needs and wants in a new home. The level of service Kim and Bill provide is unparalleled and exceeded our expectations. They made an otherwise stressful process smooth and easy on us. I would recommend Keenan Real Estate to anyone for their real estate needs.
______________________________________________
★★★★★ Highly likely to recommend (Zillow)
06/14/2018 - stephen102
Sold a Condo home in 2018 in Arvada, CO.
Local knowledge:

★★★★★

Process expertise:

★★★★★

Responsiveness:

★★★★★

Negotiation skills:

★★★★★
My wife and I were working with another realtor before we came into contact with Bill and Kim Keenan. We had so many difficulties with the previous broker that we decided we had to make a change and work with someone else. We were referred to the Keenan's by a work colleague who had experienced many positive house closings with Keenan Real Estate. Our situation was somewhat complicated as we were selling and buying a home simultaneously and needed most of the sale proceeds for the down payment on the purchase. Kim reached out to learn about what we needed and listened to what happened with the previous broker. She spent over an hour talking to us about how right our decision was and thoroughly explaining how true customer service should be done. It was incredible! She started working on selling our place right away once we were able to terminate the previous contract. We met Bill soon thereafter who walked us through the buy side. The entire process could not have been smoother with excellent proactive communication and effective negotiation. They were able to work both deals to close in the timeframe we needed for a work related move. Bill and Kim are true fiduciary's in every sense of the word and we will highly recommend them to everyone we know that needs help buying or selling a home.
______________________________________________
★★★★★ Highly likely to recommend (Zillow)
12/12/2017 - karroscene
Bought a Single Family home in 2017 in Blackstone Country Club, Aurora, CO.
Review for Member: Bill Keenan
Local knowledge:

★★★★★

Process expertise:

★★★★★

Responsiveness:

★★★★★

Negotiation skills:

★★★★★
My wife and I were so happy with our experience with Bill and Keenan Real Estate that we recommended my wife's mother contact Bill for her move. So even "highly likely" isn't a strong enough rating - I HAVE recommended Bill to family, and I absolutely would do so again. I'll also add that even our superintendent (we went with a new build) commented to me about how great our Realtor was - a reflection on Bill's knowledge of the build, and willingness and ability to stand up for us. Keenan Real Estate is a family business, and you feel that. I felt Bill to be a friend during our home buying process, as well as a fierce representative for my family when we needed him to be (even when we didn't know we needed him to be.) He quickly went from "Our Realtor (Bill)" to "Bill (our Realtor.)" Bill is highly knowledgeable - not just of the cities and neighborhoods but of building workmanship, of how to install/change something in your home (I'm not handy so his knowledge was extremely helpful) and of things we just may not have considered in general. He was the perfect Realtor for my family. Here is our experience: My family made an out-of-state move that took nearly two years to complete from initial search to move-in. Bill spent a weekend plus taking us out in 2015 (we had a little internet knowledge of the area but nothing more.) He drove us through the different cities, and neighborhoods, giving us information, pros, and cons of each. My wife and I contemplated the move, asked Bill for utility estimates (we like to be thorough), and ultimately decided to stay put and not move. A year later, we reconsidered, reached back out to Bill (because we were so happy and comfortable with our first experience) and Bill happily took us out again. This time we pulled the trigger on a new build (but considered both new and existing.) Builder hiccups tripped us up early in the process (at which point we were back home in California), but Bill climbed the ladder with the builder and gained us some concessions. Bill was our eyes and ears in Colorado during the process (as we stayed in California until weeks before closing.) He caught things during the build that we wouldn't think to question (oddly routed water pipes, surround sound speaker position, etc.) If something was important to us, Bill made it important to him. The builder landscaped the front yard. We wanted to see the landscaping plan, but the builder advised that they didn't have one. Bill didn't relent on inquiring about it - climbing the ladder in an attempt to obtain it. He also provided information on multiple landscapers to finish our backyard (along with numbers for other contractors/handy men as needed.) Bill was always very quick to respond - via phone, text, or email. I was never frustrated waiting for him to get back to us. And if I wanted him to go to the property to send me pictures, he did that promptly as well (I don't believe I ever asked for same day photos but Bill offered them multiple times.) I want to stress one last thing. I said early in this review that Keenan Real Estate is a family company, and I want to reiterate that and how the Keenans made our family feel like theirs. My mother-in-law booked a flight to Colorado to look at homes with Bill. Bill was stranded away from Colorado because of the 2017 hurricanes that hit the southeast coast of the US. Bill arranged for his daughter (also a licensed Realtor as is his wife) to escort my wife and mother-in-law in case Bill was unable to get back to Colorado to meet with her. This was didn't feel like one professional passing off a person to another colleague. This felt like a friend making sure their friend/family took care of us as well as they would have. I have little doubt that this is how the entire company is run. If you're looking to buy or sell, give Keenan Real Estate a call. You'll be happy you did.
______________________________________________
★★★★★ Highly likely to recommend (Zillow)
08/14/2017 - rsamban
Sold a Single Family home in 2017 in Bradbury Ranch, Parker, CO.
Local knowledge:

★★★★★

Process expertise:

★★★★★

Responsiveness:

★★★★★

Negotiation skills:

★★★★★
Kimberly Keenan is professional, knowledgeable, knows the tricks of the trade and most importantly takes pride in the quality of the service she provides to her clients. We listed our home and got full price offer in first weekend. Kim and her team helped me in every step of the way and always did it right the first time. I travel for my work and I could not attend some repairs that came out of inspection. Kimberly and her team was so helpful to open the doors for contractors to address my needs. She negotiated with buyers and offered them alternatives for issues that would have taken couple of weeks to fix. She never let the focus off of the deal right from the beginning - research local area market, advise on how to prepare the home for listing, working with my schedule, negotiating with buyers and making sure that timelines are met. She even worked with buyers to move the closing date one day ahead so that I can have the money wired before I went on vacation. We are so pleased and extremely happy to have hired Kim and will definitely work with her again. She really rocks!!!
______________________________________________
★★★★★ Highly likely to recommend (Zillow)
08/05/2017 - kcl1968
Bought and sold a Single Family home in 2014 in Castle Rock, CO.
Local knowledge:

★★★★★

Process expertise:

★★★★★

Responsiveness:

★★★★★

Negotiation skills:

★★★★★
Kimberly is an amazing agent & friend. When it was time to sell, my wife & I knew exactly who to call. Her knowledge of the industry and ability to maximize the sale is top notch. Some agents look to sell a house, she's in it to sell your Home. We are extremely satisfied and very thankful for Kim!! Thank You Again!
______________________________________________
★★★★★ Highly likely to recommend (Zillow)
07/17/2017 - skullian2
Bought and sold a Single Family home in 2017 in Tallyn's Reach, Aurora, CO.
Local knowledge:

★★★★★

Process expertise:

★★★★★

Responsiveness:

★★★★★

Negotiation skills:

★★★★★
Bill and Kimberly were just simply amazing. They took care of not only selling our current house but also introducing us to our current builder and have been there with us every step of the way. The level of detail that they would explain to us and walking us through each step (even though this is the 5th house we have sold/bought) we learned so much about the process. The first open house was truly remarkable as they invited our neighbors and catered a brunch....who does that? They went above and beyond what I have ever experienced before. I think it is very important to be able to trust your agent as this is a big investment and I would trust both Kimberly and Bill again. We would not have been able to buy our new house if it wasn't for all of the hard work that the Keenan team provided throughout the sale of our home. I would highly recommend them to anyone. They made us feel special during the entire process and we will be forever grateful to them
______________________________________________
★★★★★ Highly likely to recommend (Zillow)
06/27/2017 - jheard04
Sold a Condo home in 2017 in Challenger Park, Parker, CO.
Local knowledge:

★★★★★

Process expertise:

★★★★★

Responsiveness:

★★★★★

Negotiation skills:

★★★★★
This is the second home I've sold with Kimberly. The first experience was fantastic and I was even more impressed with the second. This go round was no easy task due to several specific issues that needed to be addressed. From the get go, Kimberly understood what our needs were and drove to ensure we kept those objectives in sight. She gave us a realistic forecast and always kept our best interest at the forefront. Very professional, attentive and an all around wonderful person to work with. She is my realtor.
______________________________________________
★★★★★ Highly likely to recommend (Zillow)
04/25/2017 - bpember1
Bought a Single Family home in 2015 in Parker, CO.
Local knowledge:

★★★★★

Process expertise:

★★★★★

Responsiveness:

★★★★★

Negotiation skills:

★★★★★
My husband and I purchased a home in Parker CO and we were so pleased with both Bill and Kimberly Keenan. Home buying in Parker was challenging to say the least with multiple over-ask offers on the homes we were looking at. Bill was readily available to show us homes and always had our best interest at heart. He even steered us away from a home that had a troubled inspection. We never felt pressure to purchase anything that did not fit our needs. Bill was supportive and encouraging through the entire process. We cannot say enough wonderful things about Keenan Real Estate!
______________________________________________
★★★★★ Highly likely to recommend (Zillow)
04/07/2017 - Christian Balcer
Sold a Single Family home in 2017 in Stonegate, Parker, CO.
Local knowledge:

★★★★★

Process expertise:

★★★★★

Responsiveness:

★★★★★

Negotiation skills:

★★★★★
Kim, and her team, are an outstanding group of professionals. Her communication, process and goals for my home were so in tune with my needs the sale and closing was seamless. Wonderful experience!
________________________________________________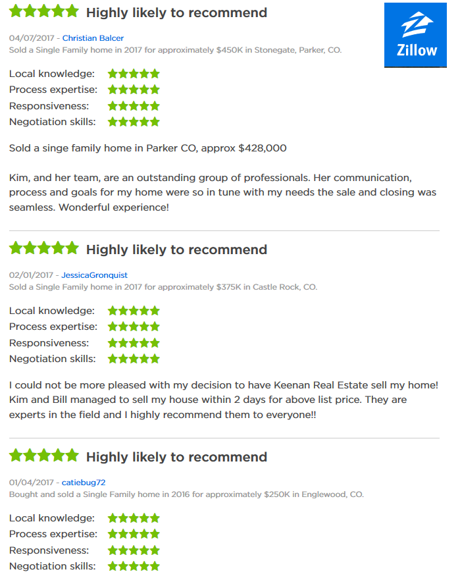 Here is what our customers are saying about us!
Wednesday, April 16th
Kimberly Keenan was absolutely awesome. My wife and I were just window shopping for a home and not real serious about buying a home just yet. We had 8 months before we planned to move and needed to sell our current house in Grand Junction. While we were driving around Parker to see what was available, we found her real estate company from a For Sale sign on a house that interested us. We called her about the property, but it was already under contract. However, Kimberly stayed in contact to see if she could help when we were ready. We had contacted several realtors during our drive bys, but Kim was the only one who stayed in contact with us and continued to send us additional listings.
Let's just say our timing plans to relocate changed real fast. My wife found a house she loved. When we happened to be in Parker for a weekend and noticed the price had been drastically reduced, we immediately wanted to see the house. We called Kimberly early on a Saturday morning as she was leaving gym class. She made arrangements to show us the house, got us pre-qualified, submitted our offer, and by early evening we had an accepted contract by the owner.
As sometimes happens with real estate transactions, we had a potential deal breaker a few weeks before closing. It was only due to Kimberly's diligence and great personality that the transaction was back on and the sale continued through to closing. We truly believe that, if we hadn't selected Kimberly as our agent, we would have lost our dream home in Parker.
We will be recommending Kimberly Keenan and Keenan Real Estate to everyone we know.
Terry and Pamela Franklin (Extremely HAPPY residents of the Pinery)
___________________________________
Wednesday, March 25th,
Kimberly,
Words cannot express how grateful I am for you and your team. The thought of selling a home from 500+ miles away was daunting, but you made it incredibly convenient and literally enjoyable. Your professionalism, follow up and consistency in communication is beyond impressive. I wish that I would have had a chance to meet you as well, but just know that I am virtually hugging you as a big 'Thank You'.
Many thanks, and I will absolutely promote you to all of my friends in Colorado. You are truly amazing.
THANK YOU!!
Trish
Fri, Jan 24, 2014
Helped me buy a home
We've bought and sold many homes over the years, and the experience we had with Kimberly tops them all. She knows the area better than anyone. She knows everyone locally in this business too. But, best of all, she knows her industry. Kimberly Keenan is truly one of the best at what she does. She has a client for life with us. We couldn't be happier!
Adam
**********
Currently working together
Mon, Jan 13, 2014
Kim's level of commitment and dedication is without parallel. We have had a couple contracts that didn't work out due to issues with the houses but that has never taken away from Kim's energy to help me find the perfect place for me. She is absolutely top notch and sets my mind at ease at every step through the process.
J. Frizzell
************
Helped me sell a home

Kimberly is very knowledgeable, professional and went above and beyond to get my house sold in a timely manner. The process from start to finish was easy and I will highly recommend her to anybody looking to sell their home.
Sun, Jan 12, 2014
S. Hernandez
***************
9-13-2013
facebook.com
After everything the awesome staff at your office have done for us, Kirie went above and beyond yet again! A last minute appointment, and she gave our three year old a toy that she had in her car that Alaina had been admiring. She cant stop talking about "Miss Kirie's amaaazing present". Thank you, again, ladies. You're the BEST!
E. Jones .
************
6-30-2013
Kimberly,
You are a remarkable realtor. Only wish we had met you 4 years ago. We are extremely happy with how this came together and are looking forward to working with you and your team. And, the home.

Thank you so much!!!!

Let us know if there is anything else you need for us to do.
Yeah!!!! We bought a home!
***************
4-23-2013

This was my first home purchase and it couldn't have gone any smoother. Kimberly Keenan and her team were amazing and truly showed a genuine care to meet my needs. I am planning to upgrade in the future and I will absolutely use Keenan and recommend Keenan Real Estate to all my family and friends.
Thank you so much, Kimberly. You were so great. I've worked with so many agents before while doing real estate and it really seemed like you are the type that cares for people. I appreciate everything!
Veeka
**************
4-9-2012
Kimberly,

I just wanted to take a moment to let you know that my husband and I are so impressed with you, your staff and Citywide Home Loans. First impressions mean everything to me and from your website, speaking with you for the first time on the phone about your practice really put my mind at ease that we made the right decision
choosing you to represent us during our home buying experience. Kirie was so nice and helpful to us when we were looking at homes. Her bubbly personality, professionalism and patience makes her a perfect fit for your company. We had a great time looking at houses with her and we weren't stressed. She made the experience fun. We felt like we were viewing homes with a family member. She is so down to earth.
I can't say enough about John Jarvis and Jaime Hoffman and the rest of the staff at Citywide Home Loans. They have always kept us in the loop during our loan process and anytime I had questions about paperwork, they were always there to answer my questions with a smile. This is our third time purchasing a home but I can honestly say that no Lender in the past has ever taken the time that Citywide Home Loans has to make this process less stressful. I know that I'm in good hands and it really helps put my mind as well as Paul's mind at ease knowing that we have a team backing us. I have never felt like a burden to anyone when I call to ask questions. This is like a dream come true. John Jarvis and his team even sent us gift cards for Starbucks so we will definitely use them the next time Paul is home on leave and they also had a beautiful fruit basket delivered from Edible Arrangements. I couldn't believe it. They have done more than we could have imagined. I have heard and read horror stories about mortgage lenders and I am glad our experience was the opposite. I would definitely recommend your team and Citywide Home Loans to our friends and family.

Thanks again Kimberly for making our experience enjoyable and less stressful. You have no idea how much this has meant to us. It's hard enough having Paul gone during most of the process but I am thankful to God that we found the best Realtor in Denver, Kimberly Keenan! God Bless you, your family and staff.

Charlotte and Paul
♥♥♥♥
December 31st, 2012
A big thank you goes out to Keenan real estate for helping our family's first time home buying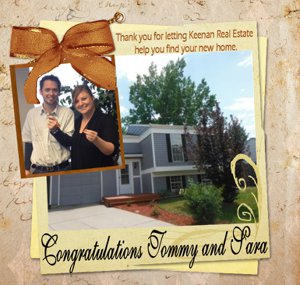 experience be a flawless and professional one! Kimberly and her team were professional, caring, informative and very thorough. Being a first time home buyer can be a very scary experience, Kimberly and her team made sure we were informed and understanding of every step we took along the way. We will gladly use Keenan real estate for any of our future real estate needs and will continue to refer our friends and family to them as well. It is so good to be home, thank you Keenan real estate for getting us here!
Sara
♥♥♥♥♥
8/16/2012
Ladies,

I am sorry it took so long for me to write you, but I wanted to thank you from the bottom of my heart for all the support and help you provided in the selling and buying of our new house. You are the dream team of real estate!!!! It was a wonderful experience working with you from beginning to the very end and you now have a customer for life. I was told that Terri is moving on and you will be missed. Thanks for putting up with me and motivating me to get the job done. We still have many boxes that need to be put away (don't worry Jaymie I won't rebuild the stacks, but I need to keep my books) and will let you know when we throw the party. We just purchased our outdoor furniture and fire pit!!!! You will all be invited.
Just wanted to take a second and say thanks.
Sincerely,
Mike and Marianne
♥♥♥♥♥
To whom it may concern,
I am writing to you on behalf of the Keenan Real Estate Group, more specifically Kimberly Keenan. In an environment where the market is challenged, the field saturated and the ease at which you can get into the field these two stand out in the sea of real estate and deliver service above and beyond. It is a rare occasion, in my opinion, that you can find fantastic service that you can trust in the real estate industry. Kim does an exceptional job of creating relationships throughout the industry to be able to put their client first at all times. These relationships don't come easily and the work done to create them is obvious from the start. Unlike many interactions in the field you instantly feel like you are dealing with a knowledgeable, caring and effective team.
I have had the chance to deal with Kim on multiple occasions over the last 7 years. During that time I have bought 2 homes, sold a home and have always had outstanding service and interactions with their entire group. The interaction between the two of them appears seamless and as such gives their client the feeling that they are at their disposal at any given moment. I know this comes at great personal sacrifice and an uncommon commitment to quality. The continued relationship they have kept with me, even though I have no need of their services at the moment, shows the importance and value they place on maintaining happy clients, as well as understanding the value of happy clients.
I have had dealings with many people in all levels of business throughout the years, as my field demands me to do so. It is without question that when someone is seeking assistance in the real estate world these two women are who I recommend. If you are looking for a caring team, who can seem in an instant that you have known them for a long time, combined with the knowledge to financially benefit you to the fullest… there simply is no better option in the area. My primary role in my career is the identification and the development of talent, as such I pride myself on doing just that. With that said I whole heartedly give my recommendation for anyone considering her services.
Sincerely,
Steven Byers
Best Buy Mobile, Area Sales Manager
♥♥♥♥♥♥
1-24-2013
Thank you Kimberly Keenan, you did it again! We are so appreciative of your professional and timely leasing of our house in Highlands Ranch.
We live in Virginia and have worked with Kimberly for several years to lease our house. Kimberly's most outstanding attribute is that she will go the extra mile for her clients. We have been in two situations that demonstrate her commendable dedication to service. Most recently, we learned that our tenant's employer informed him on December 1 that he was being transferred out of state on January 1. Kimberly took immediate and aggressive action and leased our house by January 1! Leasing the house in such a short time during the month of December is truly an impressive feat!
Two years ago, we were in the process of leasing our house and suffered a family emergency. Kimberly immediately took charge of the details and tasks needed to prepare the house for leasing. We were able to spend time with our family feeling assured that all aspects of the leasing process were in place.
Kimberly's marketing practices are professional as well as aggressive and she has expertise in attracting quality tenants. She is timely and responsive, and always congenial. We admire and respect her knowledgeable and remarkable service.
Kimberly is definitely one-of-a-kind!
Ben and Carmen